I have to say upfront, not only do I simply adore all Juliet Marillier's books, and her lyrical writing style, but when the opportunity came to read an ARC of her latest, Dreamer's Pool, an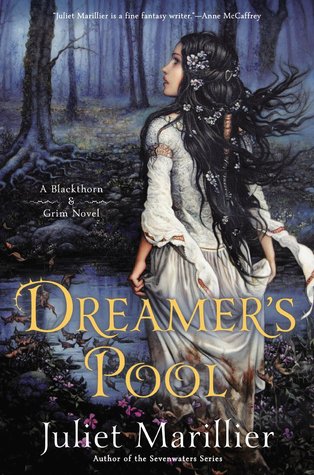 d review it, I quickly threw my hat in the ring, or keyboard into cyberspace, knowing I wouldn't regret it. I was right.
Dreamer's Pool is the first in a new series, Blackthorn and Grim, set in Ancient Ireland. While it tells the story of the terribly bitter and deeply tragic healer, Blackthorn (who is as prickly as her name), and her silent, stoic and loyal companion Grim, who due to the interference of a fey lord are released from what appears to be unjust imprisonment on terms Blackthorn at least rails against, the novel is told by three distinct voices: Blackthorn's, Grim's and the young Prince, Oran, who is to be wed to the woman of his dreams.
Forced to abide in a part of the country previously unknown to them and which is Prince Oran's demesne, and hauntingly lovely, Blackthorn must heal and help any who ask. A brilliant is somewhat unwilling healer, what Blackthorn does not expect is to be called to the aid of the prince's bride-to-be, the beautiful Flidais, when calamity strikes her party while enroute to meet the groom. Death is never a great omen for forthcoming nuptials, but when Prince Oran cannot reconcile the reality of his soon-to-be wife with the darling, sweet and learned Flidais who exchanged letters with him for months prior to her arrival, he calls upon Blackthorn and Grim to help him uncover the truth.
But Blackthorn and Grim have their own pasts and ways of dealing with those they encounter in the present and Blackthorn especially, while she always knows what to do to heal others, believes vengeance is the only panacea for what ails her. Until she recognises the truth in her purpose, and those who believe in her, she is doomed to repeat history's mistakes and bring more disaster in her wake.
This is a simply gorgeous story with wonderful, intriguing and complex characters, some with dark, wretched pasts, who carry emotional baggage like a hair shirt and find relationships difficult. It also contains a range of naïve, wise and trusting people and those who would betray and abuse this trust. Written in exquisite and addictive prose, each voice rings emotionally true and you find yourself championing and understanding them, even when their choices don't seem shrewd. This is a tale that will tug at your heart and, like the fable that it draws upon, linger in your head and soul for days afterwards. I cannot wait for the next instalment in this series.
Below is a fabulous sample from Chapter One of the audio book from Audible Studios – just click, listen and enjoy!